The Lais River
General
The Lais River starts at an altitude of 850 meters near mount Nasa close to the Norwegian boarder. The river falls more than 400 meters during its 170 km long journey untill the meeting with the Vindel River (Vindelälven), 10 km north of Sorsele. The river forms a couple of large lakes of which the 30 km long Lake Storlaisan is the largest. The first part of the river down to Lake Gauto is characterised by high mountains and birch forests. From Lake Gauto down to the Vindel River it is mainly pine and spruce forests and some minor feature of old agriculture land. Natural strand meadows with plenty of flowers are common. One characteristic flower is the globeflower.
Species of fish
Grayling, trout and white fish are common in the river up to the waterfall Märkfallet between Lake Storlaisan and Lake Gauto. Upstream the waterfall Märkfallet there is only trout in the river and trout and char in the lakes.
Tributaries
Tributaries are the streams Badasjokk, Viejeströmmen and the Dellik River (Dellikälven). Trout is the most common specie in these streams but arctic char can also be found, especially in the most upper parts. Grayling exist in the lower part of the Dellik River from the Lais River up to the waterfall Lillfallet.
Roads and service
A road is following almost the whole length of the river except for the first 50 km upstream Adolfsström. It is therefore easy to reach the major part of the river. The biggest community along the river is Laisvall, a small mining town with about 260 inhabitants. You can rent a cabin at Adolfsström, Gauto, Dellikvallens fishing camp and at Björklidens fishing camp. It is also easy to find your own spot to camp overnight. There is a grocery store and an unmanned gas station in Laisvall. There are small groceries in Adolfsström and Gauto.

Lars is fly-fishing in the Lais River.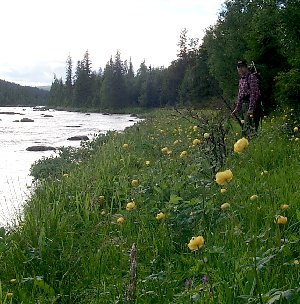 A strand meadow at the tributary Dellik River.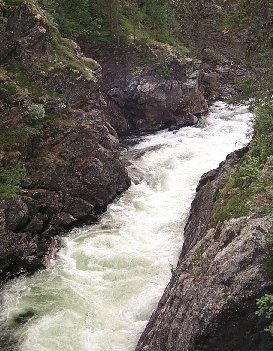 The canyon at the rapid Märkforsen.